Our Story
Lajonie Vineyards
From one generation to the next: this is how the history of the LAJONIE vineyards is written. Characters and personalities that have marked each era, shaping a true dynastic epic with the wines of Bergerac and Monbazillac as the common thread, deep in the heart and the soil.
The story begins in 1880, when the Gueylard family bought the Saint Christophe farm in Bergerac. At the time, it consisted of 6 hectares of land to be used as a farm.
1880
V
i
g
n
o
b
l
e
s
®
L
a
j
o
n
i
e
®
V
1880
Purchase of the farm
The Gueylard family buys the Saint Christophe estate in Bergerac.
1936
Succession
Lydie Gueylard and Courcelle Pierre Gilbet married in 1936. They took over the development of the farm.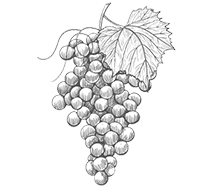 1940
Planting of the first vines
Mr Courcelle acquires a 3 hectare plot of land and turns it into a vineyard.
1961
Land consolidation
Claudie Courcelle, daughter of Lydie and Pierre Gilbert, married Gérard Lajonie in 1961. He combined his land with that of the Courcelle family.
1965
Sale of bottled wines
Gérard Lajonie decides to market his wines in bottles, in addition to bulk sales. Lydie is a forerunner in the sale of wines to individuals, makes deliveries throughout France and starts the first trade shows.
1970
Château Gramboy
Gérard Lajonie becomes the owner of Château Gramboy located in Pomport with a surface area of 22ha.
1972
Château Bellevue
Gérard Lajonie acquires the ruined Château Bellevue on the slopes of Monbazillac.
1983
The wires are coming in
The sons Joël and Alain set up an estate along the Dordogne, at Château les Merles. At the time, the structure covered 40 hectares of vines. Today, it covers 70 hectares.
2022
The story continues...
Today, the family estate comprises a total of 180 hectares. And the story of this estate will not end like this because Gérard's grandchildren are also involved in the business and continue the family adventure.